CALL FOR ABSTRACTS – (Open)
The scientific committee of the 4th London International Bariatric Surgery Symposium (LIBSS) welcomes the submission of abstracts from Doctors and AHPs. Please go through the instructions on the same.
Instruction
Presenters are requested to submit original abstracts online here at the Libss website. All submission must be of work already completed. The authors may submit more than one abstract.
Format for submission
Language – Abstracts to be submitted in English
Word Limit – 300 words
File Type – Word/PDF document with size less than 1MB
Abstract Content
Title of abstract
Objectives
Methods
Results
Conclusion
Best Oral Presentation – Prize
The winner of the best oral presentation will get an Editor signed copy of Obesity, Bariatric & Metabolic Surgery – A Practical Guide.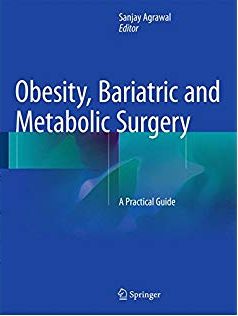 Abstracts – Oral Presentations 
A08. Outcomes following Reoperative Bariatric Surgery following Laparoscopic Sleeve Gastrectomy at a tertiary care centre
Authors: Sandeep Aggarwal, Amardeep Kumar, Vitish Singla, Kaustubh Gaur | India
A10. Obesity services: Barriers and solutions during the COVID-19 pandemic
Authors: Guy Holt, David Hughes | United Kingdom
A13. A nationwide population-based cohort study on efficacy and safety of bariatric surgery in young adults versus adults
Authors: Kelly G. H. van de Pas, Aliyar Esfandiyari Noushi, Loes Janssen, Anita C.E. Vreugdenhil, Wouter K. G. Leclercq, François M.H. van Dielen | Netherlands
A17. Revisional bariatric surgery following Roux en Y gastric bypass: a systematic review
Authors: James Butterworth, Smith C, Chang A, Ramar S | United Kingdom
A18. Marginal Ulcers following gastric bypass in in bariatric surgery: a systematic review and practical guide to clinical practice
Authors: Smith Christopher, James Butterworth,  Ftaieh F, Ramar S, Chang A | United Kingdom
A19. Intestinal failure in post bariatric surgery patients needing total parenteral nutrition
Authors: Georgios Geropoulos, Simon Gabe, Maja Kopczynska Maja, Simon Lal, Chetan Parmar | United Kingdom
A30. Exploring the Utility of Staple Line Reinforcement in Sleeve Gastrectomy: A Nationwide Cohort Study
Authors: Osama Niaz, Alan Askari, Andrew Currie, Emma Mcglone, Roxanna Zakeri, Omar Khan, Richard Welbourn, Chris Pring, Peter Small, Rachel Batterham, Omer Al-Taan, Kamal Mahawar, Ravikrishna Mamidanna | United Kingdom
Abstracts – E Posters
A01. Impact of bariatric surgery on urinary incontinence: Three year outcomes.
Authors: Prasanna Ramana Arumugaswamy, Prabhjot Singh, Rajeev Kumar, Sandeep Aggarwal | India
A02. Nutritional Risks One Year after One Anastomosis Gastric Bypass: Is It More Challenging than Sleeve Gastrectomy?
Authors: Anna Aronis, Naama Shirazi, Nahum Beglaibter, Ronit Grinbaum, Wiessam Abu Ahmad | Israel
A04. New approach for the treatment of sleeve gastrectomy leak with laparoscopic roux en y bypass to the leak site as one step procedure
Authors: Maher Hussain | Lebanon
A05. SASI Bypass as a Revision surgery for Sleeve Gastrectomy Non-Responders:2 Years Follow up
Authors: Ibrahim Abdelhamid, Mohamed Alhaifi | Kuwait
A06. Laparoscopic sleeve gastrectomy in a patient with severe haemophilia (case report)
Authors: Ibrahim Abdelhamid, Mohamed Alhaifi | Kuwait
A09. Simultaneous Occlusion of Afferent & Efferent Limb Due To Slippage of Minimizer Band Following Revisional Banded One Anastomosis Gastric Bypass: A Video Case Report
Authors: Sandeep Aggarwal, Amardeep Kumar, Vitish Singla, Kaustubh Gaur | India
A11. Being a feeder: the positive and negative sides of social support in the onset and management of obesity
Authors: Jane Ogden | United Kingdom
A12. Effects of LSG and LMGB/OAGB on lipid profile of patients post bariatric surgery
Authors: Zafar Iqbal Gondal | UAE
A14. Laparoscopic Roux-en-Y Gastric Bypass and Laparoscopic Sleeve Gastrectomy for Severe Obesity in Teenagers: study protocol of a prospective cohort study
Authors: Kelly G.H. van De Pas, Daniëlle S. Bonouvrie, Loes Janssen, Wouter K. G. Leclercq, Eric J. Hazebroek, Anita. C.E. Vreugdenhil, François M.H. van Dielen | Netherlands
A15. Evaluating the effects of a ketogenic diet versus a very-low calorie diet, prior to bariatric surgery, a Study protocol of a randomized controlled trial
Authors: Aliyar Esfandiyari Noushi, M. Romeijn, L. Janssen, W.K.G Leclercq, F.M.H van Dielen | Netherlands
A16. The Impact of Bariatric Surgery on Nocturia Symptoms: A Systematic Review and Meta‐Analysis
Authors: Caroline Baillie, Byung Choi, Aisha Ehsan, Maria Nakhoul, Lavandan Jegatheeswaran, Sabin Yadav, Dheeraj Panchaksharam, Victoria Beynon, Reya Srivastava, Jennifer Stevens, Joseph Bridgeman, Osama Moussa, Shashi Irukulla, Samer Humadi, Kumaran Ratnasingham | United Kingdom
A20. Does Artificial Intelligence Make Sense for Metabolic/Bariatric Surgery
Authors: Manana Gogol, Andrew Gumbs, Konrad Karcz, Khatuna Kaladze, Yameen Khan | Georgia
A21. Routine pre-operative testing for Helicobacter pylori infection prior to Laparoscopic Sleeve Gastrectomy (LSG)
Authors: Sukhpreet Gahunia, Rafid Rahman, Cynthia Borg, Midhat Siddiqui, Ravikrishna Mamidanna | United Kingdom
A22. Treatment Of Delayed Gastric Bypass Bleeding By Combined Endoscopic & Laparoscopic Approach
Authors: Maher Hussain | Lebanon
A23. Laparoscopic removal of intragastric balloon from distal jejunum
Authors: Maher Hussein | Lebanon
A24. Laparoscopic bariatric procedures with the surgeon in sitting position
Authors: Maher Hussain | Lebanon
A25. Preoperative Predictors of Type 2 Diabetes Remission after Bilio-Pancreatic Diversion with Duodenal Switch
Authors: Fannie Lajeunesse-Trempe, Marie-Eve Piché, Simon Marceau, Stéfane Lebel, Annie Lafortune, Georgios K. Dimitriadis, André Tchernof, Laurent Biertho | United Kingdom
A29. Perceptions and Understanding of Obesity and Bariatric Surgery (BS) amongst Foundation Year Doctors
Authors: Sukhpreet Gahunia, M. Algharibeh, A. Shivarajan, C. O'Brien, CM. Borg, M. Siddiqui, R. Mamidanna |UAE
A31. Complications and interventions post bariatric surgery: The East Anglia experience
Authors: Mohamed Aly, Alan Askari, Minali Perera Safia Ahmed, H, Chanpreet Arhi, Vigyan Jain, Douglas Whitelaw, Tanveer Adil, Omer Al-Taan, Periyathambi Jambulingam, Aruna Munasinghe | United Kingdom
A32. To Study Outcomes Of Laparoscopic Proximal Jejunal Bypass With Sleeve Gastrectomy
Authors: Ashish Ahuja, Harprabhjot Kaur | India
A33. To study the change in quality of life and metabolic parameters in morbidly Obese patients undergoing bariatric surgery
Authors: Ashish Ahuja, Harsimran Singh | India
A34. Outcomes of Bariatric Surgery in the over Sixties
Authors: Caroline Baillie, S Chakravartty, T Salih, R Kenny, R Newton, I Maheswaran, M Mlotshwa, G Slater, C Pring, W Hawkins | United Kingdom
A35. Hill's antireflux operation for reflux after sleeve gastrectomy
Authors: Villy Våge, Jan Behme, Hannu Lyyjynen | Norway
A37. Bariatric surgery in renal failure patients improves access to transplantation without increased perioperative risk
Authors: Karen Bosch, L Sulutaura,E Lacea,K Burton,N Fernandez-Munoz,P Sufi,A Al-Midani,C D Parmar | United Kingdom